2019 Slamdance Film Festival Blitz Pitch!
August 1, 2019


7:00 p.m.
Santarcangelo, Italy
Schedule and tickets here.
June 29, 2019
New Filmmakers Los Angeles Screening Event
4:00pm-4:30pm-Screening Pre-Reception
4:30pm-6:00pm-Shorts Program #1 – Make Your Own Magic
Location – Event Entrance
1139 S. Hill Street, Los Angeles 90015
Event Directions
Parking (fee)
1133 S Olive St, Los Angeles, CA 90015
Parking Directions
Schedule and tickets here.
June 29, 2019
Vidlings & Tapeheads Film Festival
Ant Hall & Ghost Light | 2320 Caniff Avenue, Hamtramck, MI 48212 (Festival takes place in a kick ass venue in Metro Detroit, Michigan.)
Schedule and tickets here.
Gloria's Call is thrilled to be included in the short video below, produced by HotDocs International Film Festival.
Blending animation, interviews and a trippy soundscape, this is a fitting look at the life of radical academic and writer Gloria Feman Orenstein's serendipitous life. She vividly conjures an alternative history of art, surrealism and eco-feminism in the 20th century, with lively anecdotes about Leonora Carrington, Méret Oppenheim and Jane Graverol, to name a few. ~ Eileen Arandiga, Canadian International Documentary Festival
Previous Screenings
June 8, 2019
Handmade Puppet Dreams
A film series promoting the craft of puppetry on screen. Downtown Independent Theater
1pm, Puppet Display; 2pm Gloria's Call; 2:20pm
HPD; 3:30pm Q&A with the filmmakers
251 S Main St, Los Angeles, CA 90012
Tickets here.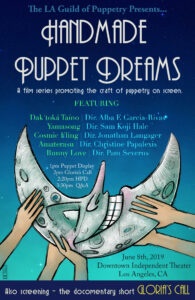 June 9, 2019
26th Chicago Underground Film Festival
Logan Theatre, Theatre #4 @ 6:30 p.m.
2646 N Milwaukee Ave, Chicago, IL 60647
Tickets here.
June 11, 2019
Slamdance Cinema Club Screening
8:00 p.m. @ Hollywood ArcLight Theater
6360 Sunset Blvd, Los Angeles, CA 90028
Screening followed by a Q&A with the filmmakers!
Tickets here.
May 26, 2019
Fine Arts Film Festival
Venice Institute of Contemporary Art at the Loft Studios and Galleries @ 2:45pm
401 S. Mesa Street, San Pedro, CA 90731
(screening time is approximate – see program)
Tickets and program here.
May 11, 2019
WOFFF Best of the Fest
(Women Over Fifty Film Fest)
Towner Gallery in Eastbourne @ 2:00 p.m.
Devonshire Park | College Road | Eastbourne | BN21 4JJ
Tickets: https://www.townereastbourne.org.uk/
Box office Phone: 01323 434 670
May 8, 2019  
38th Annual Black Maria Film Festival Tour
Wednesday, May 8th @ 7:30 p.m
The Bickford Theater at the Morris Museum
6 Normandy Heights Road
Morristown, NJ 07960
Festival link here .
MAY 1 & 2, 2019
Hot Docs Canadian International Documentary Film Festival
Wednesday, May 1st @ 8:45 p.m.
Scotiabank Theater Toronto
259 Richmond Street West
Thursday, May 2nd @ 10:15 a.m.
TIFF Bell Lightbox
Reitman Square, 350 King Street West
Festival link here.
April 30, 2019
Newport Beach Film Festival
5:30 p.m. @ Triangle Square Cinemas
1870 Harbor Blvd, Costa Mesa, CA 92627
Festival link here.
Tuesday, April 23, 2019
Annual Albany FilmFest.
BEST OF THE FEST 2019@ 7:00 p.m.
Albany Community Center
1249 Marin Avenue, Albany, CA
Favorite, Curated Films AFF 2019
April 6, 2019
Through Women's Eyes International Film Festival
1:40 p.m. @ Hollywood 11, Auditorium 3
1993 Main St, Sarasota, FL 34236
Festival link here.
April 1, 2019
American Documentary Film Festival
4:00 p.m. @ Camelot Theatres
2300 E.  Baristo Road, Palm Springs, CA 92262
Festival link here.
March 31, 2019
Portland Oregon Women's Film Festival
3:00 p.m. @ Clinton Street Theater
2522 SE Clinton Street
Portland, Oregon 97202
Shorts Program IV
Festival and tickets link here.
March 29, 2019
Ann Arbor Film Festival
7:15 p.m.,  Films in Competition 8
Michigan Theater Main Auditorium
Ann Arbor, MI
Festival link here.
March 24, 2019
Albany Film Festival
6 p.m. @ Landmark Albany Twin Theatre
1115 Solano Ave., Albany, CA
Festival link here.
March 23, 2019
Nevada Women's Film Festival
8:00 p.m. @ Eclipse Theaters
814 South Third St.
Las Vegas, NV 89101
Festival link here.
March 13 – 17, 2019
Tricky Women
Vienna, Austria
Festival link here.
March 7-9, 2019
2019 SPE Media Festival
(Society for Photographic Education)
Hilton Cleveland Downtown, Cleveland, OH,
Festival link here.
March 6, 2019
Black Maria Film Festival
Hoboken History Museum
Hoboken, NJ
Festival link here.
March 1, 2019
Thessaloniki Documentary Film Festival
Thessaloniki, Greece
Festival link here.
February 22, 2019
Big Muddy Film Festival
Carbondale Illinois
Festival link here.
January 25 – 31, 2019
Slamdance Film Festival
Treasure Mountain Inn
255 Main Street, Park City, Utah 84060
Festival link here.